Caldera Morning Boat Tour Santorini
Greek Island Tours – Caldera morning boat tour – Santorini
VISIT: Volcano – Hot Springs – Thirassia – Cruise below Oia
DAY: Daily Starting 10/4/22 to 30/10/22
LANGUAGE: Daily English, French, Italian/German, Spanish from May to Sep 20
DURATION: Approximately 09:45-16:00
PRICES: 45.00 Euro per person
The tour starts with the bus transfer from the pick-up point to the Port of Athinios for boat embarkation.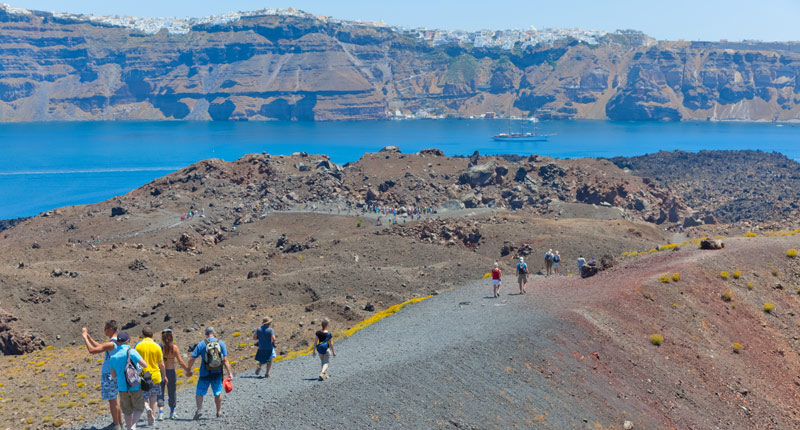 From there it continues to the lava island Nea Kameni where the boat will make a stop to give the explorers the opportunity to walk up the ascending soil path and approach the crater of the still active Volcano.
After seeing the crater you will walk back down the dirt path to the boat which will bring you to the second lava island Palea Kameni, where you will find the hot Springs.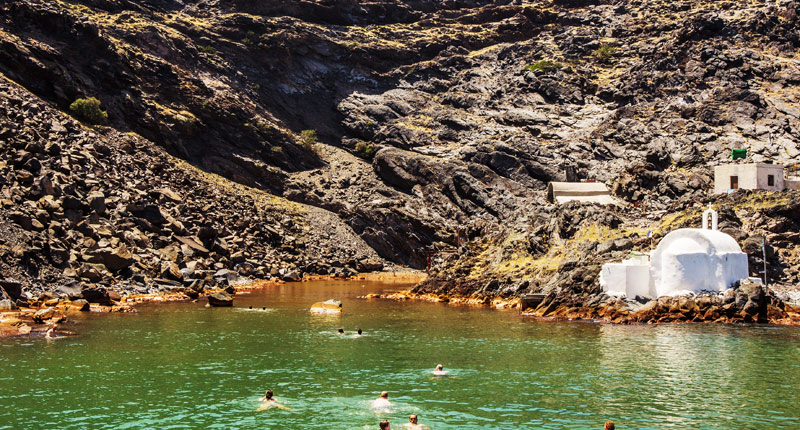 The boat makes a stop around 50 meters from the opening and you can swim in the green sulphur waters of the hot springs, wet your feet or just enjoy the view.
The tour continues after the hot springs to Thirassia Island which was once part of Santorini before the big Explosion of the Volcano. There you will stay for two hours and you will have the opportunity to do some activities like swimming on the beach of Thirassia, have lunch next to the Sea or just explore the Village of Manolas with its winding steps and traditional houses.
On the way back to Athinios port where the tour ends you will cruise with the boat under Oia where the best pictures can be taken of the amazing cliffs and the breathtaking scenery. Once you arrive at the port the bus will be waiting to bring you back to the point you started from.