Mykonos Holidays Greece – Mykonos Holiday Packages
Mykonos! The Island of major reputations!
Could it be its magical landscape ? Could it be it's unique Cycladic architecture expressed though its narrow whitewashed paths, leading to adventure of exploring the labyrinth of the city ? could might be the white painted houses and structure philosophy? Could it be the mixing of colors and lights ? Or Perhaps correlates to the energy that derives and spread all around from the neighboring sacred island of Delos, birthplace of God Apollo.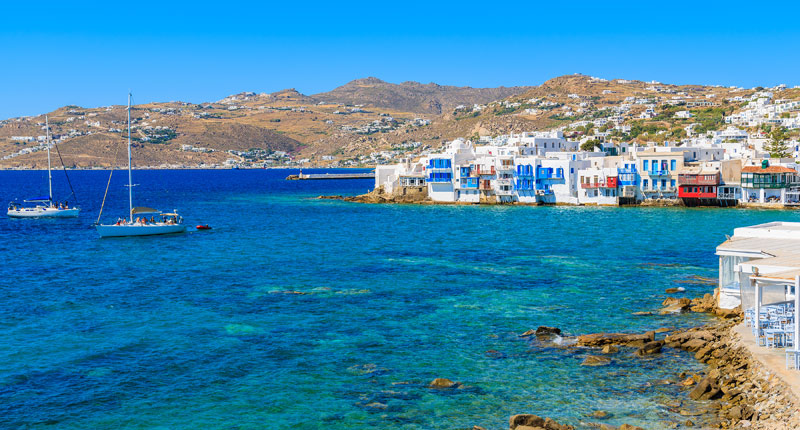 Whatever the answer is, Mykonos has the unique and magical ability to combine all of its talents in offering to all kind of visitor distinctive experiences. Mykonos holds the indisputable privilege of being closest to the riveting island of Delos. It is both ancient respectful, dependent and modern day administrator for this mysterious island. It is from its shores one can reach and discover Delos' fascinating sites; Mykonos' rise and fall has always seemingly been linked to this tiny yet highly significant island.
The name Mykonos, pays respect to Apollo's' grandson and in turn Apollo has shown his pleasure by favoring the whitewashed walls of Mykonos' traditional square Cycladic architecture with the most blindingly pleasing brilliance of all the islands within the circle. Mykonos is known as the "Island of the winds" and it is the wind called "Meltemi" that blows as delightfully free as the spirits compelled to visit here. What this wind allegorical blows and carries is an distinctive, international mix of visitors charmed by an attitude that embraces everyone from all walks of life by representing the freedom they haven't found elsewhere.
Enjoy the Island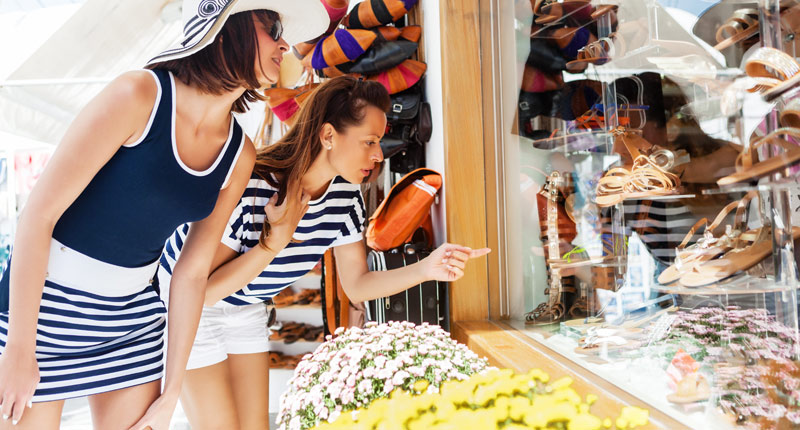 Fantastic for celebrity spotting, stimulating nightlife, stylish shopping and endless golden beaches; but being there, besides the most obvious and advertised attractions, visitors come to experience the beautiful beaches (gay, family, nudity-tolerant, water-sports or party), the incredible nightlife, the non-stop parties or just to relax on this Greek island that's like no other.
Chora (Mykonos Town)
The word "capital" (Chora) could be used not only to indicate this town's importance to the island, but also to describe its form and atmosphere. Careful exterior design, makes this lovely town incredibly picturesque and also incredibly easy to get lost in; since one is inevitably drawn into following its narrow alleyways past the brightly painted stairwells, and balconies bursting with floral color, into the alluring color coordinated maze that is inner Chora. Apart from its aesthetic beauty,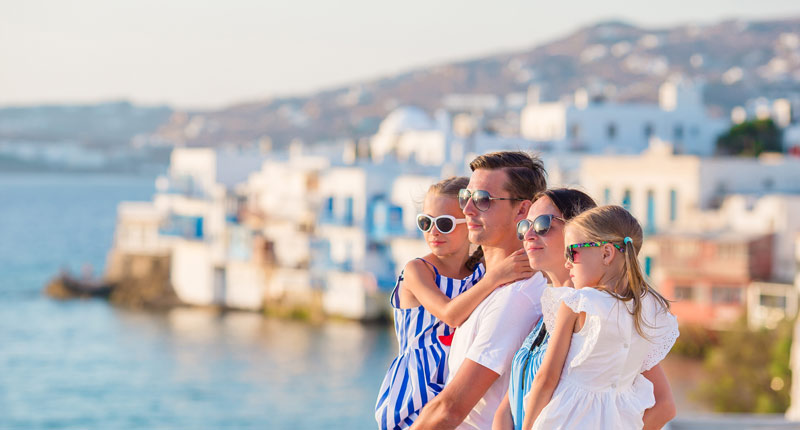 Chora is also home to six excellent museums, the Archaeological Museum which houses finds from Rhenia and Delos, the Agricultural Museum located inside one of Mykonos's windmills with its interesting tool collection, the Aegean Maritime Museum which gives insight into both Mykonos's and Greece's nautical history, Lena's House with its glimpse into this past traditional household and the Folklore Museum with its journey into Mykonos' everyday life. In this town you want find neglected buildings or peeling paint but instead finely preserved houses, elegant shops, tasteful restaurants, beautiful churches and luminous nightlife. And from the sea washed houses of "Little Venice" to the welcoming hill top windmills of Kato Mili, all visible things merge wonderfully here in Chora to create one dazzling whole which is guaranteed to emerge frequently in the mind of the visitor even long after they have left Mykonos's animated shores.
Delos Island
Protected by the circle of the Cyclades, a short 30 minute boat ride from Mykonos, and under its modern day jurisdiction is the "Sacred island" of Delos. A mere 3 point something sq km, Delos's size bears no relation to its historical significance, this favored islands barren, unproductive landscape, has inspired mankind throughout the ages to produce some of the most remarkable architecture of ancient times here the greatest religious sanctuary of Hellenic times was created.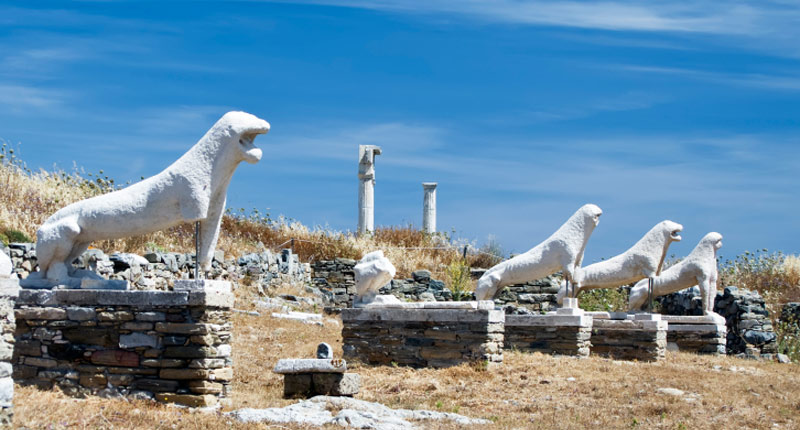 Barren itself Delos earned this privilege in the eyes of the people via the Mythological legend which holds Delos as the birthplace for, Zeus's consort and Hera harassed, Letos' twins Apollo and Artemis. Delos was Poseidon's well timed gift to Zeus's erstwhile lover its Sacred Lake providing her with a much needed sanctuary when exposed by Poseidon's merciful might. Religious dedications in Delos to the ancient gods extend from giant sphinx like sculptures of Apollo's representative Lions to splendid temples dedicated to this "God of light, music and truth", others which pay homage to further Greek gods and still others which revere foreign gods such as Egypt's Isis.
Delos, however, does not stop at housing the solidification of these ancient peoples' beliefs. It was also the reason behind the name of the infamous Delian League, its terra firma treasury and one time important meeting site. And what playful scenes must have once played before the audience of Delos' ancient marble theater? And what realistic despair must have gripped the slaves sold inside what was once the largest slave market of the region? Today what "remains" to be seen is still extraordinary.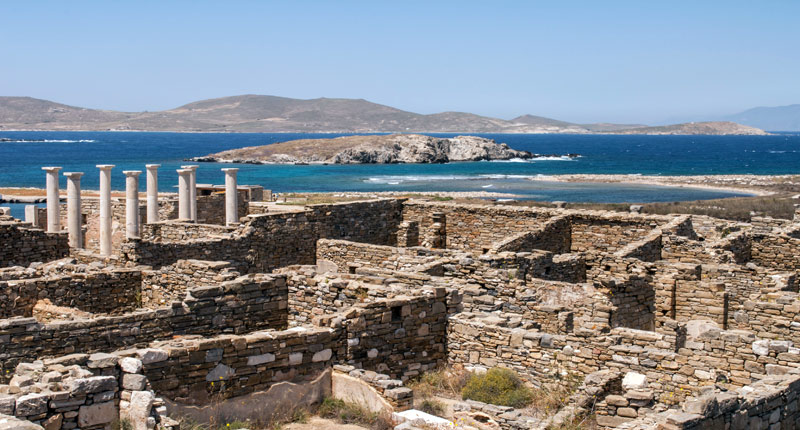 And if they are not enough to create a clear picture of past times inside the mind of the visitor there is always Delos' fine on site museum to consider, a visit here can add detail to one's imagination where needed. Nobody but Delos's, numbering fourteen, care-taking population may spend the night on Delos. This is perhaps a slightly altered throwback to the Delian declaration that nobody may "live or die in Delos." Even in daylight Delos has a beautiful eeriness. It is a place hard to forget, but modern day Mykonos makes a perfect afternoon, evening, night time surrogate; or perhaps instead she is Delos's modern day version a passionate place which is hard to forget.
Mykonos Beaches
Mykonos is not a shy island and nor are the majority of her visitors therefore one can expect more than just exposure to the sun on many of Mykonos beaches. On an island where a more than average confidence on the beach sometimes seems even more of a basic necessity than swimwear, Mykonos is nothing if not an extrovert's paradise; even the names of Mykonos's most popular beaches imply this "Paradise" and, just in case paradise isn't enough for you?, "Super paradise".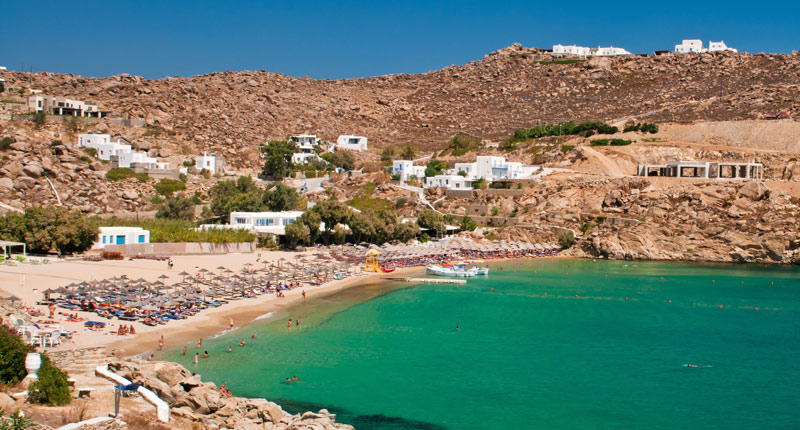 For the introvert if this exuberance to see and be seen should sound at all intimidating rest assured that Mykonos holds a "place in the sun" for everyone; Lia, Agia Anna, Agios Sostis and Agrari for example offer the kind of peace you may well be searching for. While Ornos, Kalo livadi and Agios Stefanos are ideal for creating wonderful family memories and Ftelia offers the kind of wind-winged perfection that every keen windsurfer knows well to appreciate. And on this island where human beauty does its utmost to compete with that of the natural world-no amount of posturing, no matter how stunning the poser might be, could ever compete or detract from the fine golden sand that Mykonos is world famous for, the type that is good for curling your toes into, or from the deep clear blue that stretches out invitingly to the horizon and- stirringly- beyond.
Mykonos Nightlife
Mykonos may be Apollo's "Island of light" by day but it is his twin sister Artemis the huntress whom inspires nighttime activities here. That this most unreserved of Greece's islands, and the one most refreshingly non-judgmental, should be located so close to the neighboring island of Delos which houses temples a score dedicated to the more hedonistic, pleasure seeking, ancient gods seems only fitting when one considers the score and scale of Mykonos's nightlife.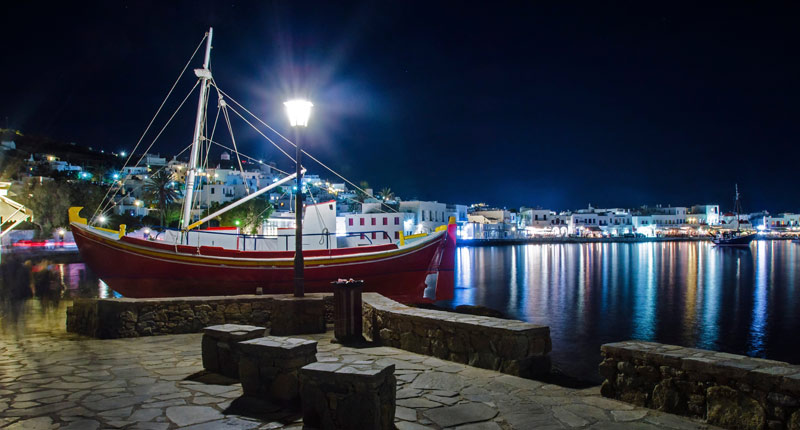 It is as if Dionysus, quiet the partier himself in his time and Mykonos' patron god , approves of this pleasure invoking island and her hedonistic pursuits and as the clock ticks past eleven the night becomes- almost- a force majeure in Mykonos's capital. Possibilities wash up with the waves here and whether you chose to dive in or swim voyeuristically around the edges Mykonos's dark to dawn rousing nightlife has few rivals.
Ano Mera
Villages in Mykonos tend to cling lovingly to her lovely shoreline making Ano Mera particularly unique as this village is one of only one interior village.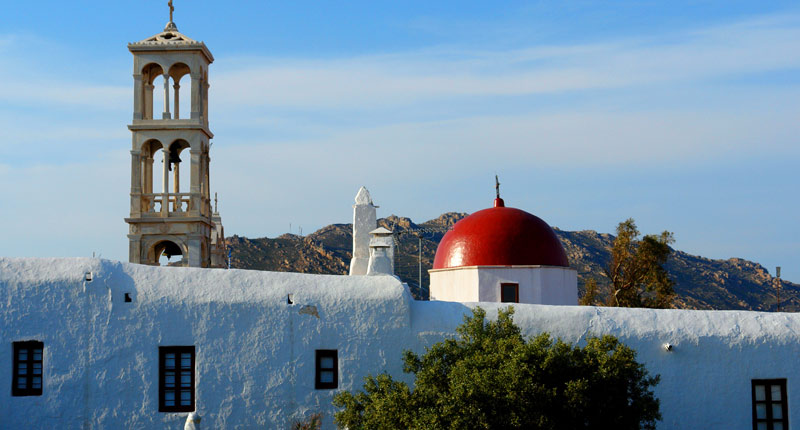 An ideal stopping off place for those travelling across country in search of further coastal pleasures, Ano Mera caters for the hungry visitor with some tasty tavernas and is home to the interesting 6th century Moni Panagias Tourlianis (Our Lady Tourliani) and its accompanying small museum which includes a collection of ancient icons. Visiting this independently situated village is well recommended for those wishing to take a short re-energizing break from the vibrant hum of Mykonos's high spirited coastline.